Current position:Home>>Product
Product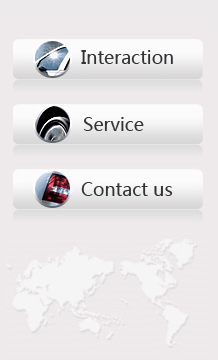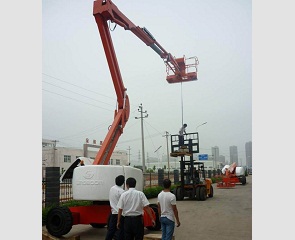 GTZZ 15 parts
Platform height 49 ft (14.8 m)
Working height 55 ft (16.8 m)
Payload 551 lbs (250 kg)
Outreach 25 ft (7.62 m)

GTZZ 15 parts
GTZZ15

Articulating Boom Lift

i

s widely used for ship building and repairing, construction, civil engineering, electric power, communications, gardening, advertising, venues and stadiums, airport, harbor and various large factories and mines. It can meet the needs of different customers. The boom is multi-stage foldable design, flexible and convenient; a two or four-wheel driving mechanism is used; the self-adaption oscillating axle is available for option, thus providing excellent stability and offroad performance. The platform can swing 160° horizontally, so that it is able to stride some barriers and work at several points without moving around all time. Furthermore, it can reach the point hard to access by traditional machine.
1. Wide operating range: 355°full direction operation at the height from 0~

55 ft (

16.8m), with a horizontal reach max. by

25 ft (

7.62m) and a crossing height of 24 ft 6 in (7.5 m).
2. Large load capacity: The lift capacity is

551 lbs (250 kg)

; the platform can hold two operators and some auxiliary tools.
3. Powerful driving force: The engine is of famous international brand, large in power and excellent in gradeability. The maximal gradeability can be up to 30%~40%.
4. Advanced technology: Self-adaption oscillating axle, fault self-diagnosis technique, anti-collision transducer device, and hydraulic self-levelling system.
5. High reliability: The engine, key hydraulic components and electric components are all of international brand, designed in conformity with EN280, AS1418.10 and GB25849.
6. Good safety: Overload limit and rollover protection system, anti-collision device and self inspection and restriction against over-amplitude are optional.
7. Easy maintenance: The engine can be screwed off for maintenance. It employs a self-lubricating slider. The boom system is free of maintenance.
Standard technical features
Options

● Diesel engine powered

● Hydraulic generator

● Proportional control

● Hydraulic welder

● Platform & ground control panel

● Hydraulic compressor

● 360° continuous turntable rotation

● Hydraulic water pump

● 160° hydraulic platform rotation

● Overload sensor with alarm

● Automatic brake system

● AC power on the platform

● Platform automatic leveling

● Platform work lights

● Onboard visible diagnostic system

● Anti-crash device on platform

● Slide-out engine tray

● 4WD

● Self-lock gate on platrorm

● Oscillating axle

● Emergency stop button

● Foamed filled tyres

● Cylinder holding valve

● Satety electric pump

● Tilt sensor with alarm

● All Motion Alarm

● Controller calibration

● Anti-restart engine protection

● Flashing Beacon

● Horn

● Hour meter

● Safety brackets

● Hydraulic oil cooler

● Solid tyre

● 2WD & 2WS on the chassis

● Can-bus design with less loops and hoses

Benefit for the applications

● Articulated boom type makes easy access to hard-to-access areas over obstacles

● High strength steel for booms for reduced weight with improved security.

● Easy operating by joysticks for driving,steering, booms'up-down and turntable rotation

which greatly improve the efficiency for working at height

● Full scale gradient control make precise positioning for the operators when approaching

● Self-leveling platform allow operation at ease

● Rough terrain performance 45% gradeability

● Well hoses protection to prevent accident or help reducing replacing cost

● Slide out engine tray to easily access for maintenance

● Slide-out battery trays facilitate servicing

● On-board visible diagnosis helps trouble shooting or provides inter-action between

machines and operators at site to suit the working conditions

● Security Device meeting EU standards in details to ensure safety

Benefit for the transportation

● 2.1M in width, to suite the trailer chassis standards

● Well-distributed weight distribution, to avoid uneven or lifting problems


● Drivable onto the trailer through the ramp

Standards compliance

AS1418-2011, EN280-2010, JG/T 5300

Others

Self-lubricating bearing

Axis-pin and bushing-block for easy maintenance

Galvanized chrome-plated

R&D designed for 10 years usage